There's nothing like a good ole rodeo
July 19, 2017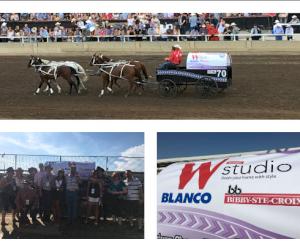 Bibby Ste. Croix recently sponsored a chuck wagon at the Calgary Stampede wagon races which showcased the Bibby Ste. Croix and Wolseley Calgary logos. The Calgary Stampede rodeo is the most prestigious rodeo in Canada and promotes volunteerism by presenting year-round events to raise money for youth and agricultural programs.

Approximately 18,000 people who attended the rodeo that night and those who watched on national television witnessed the "Bibby" wagon finish first in the second race of the night.  The money raised from sponsors will be donated to the Mavericks Charity group which supports Children's Hospital.

After the race, attendees were treated to a delicious dinner and had the opportunity to meet the wagon driver and his horses.