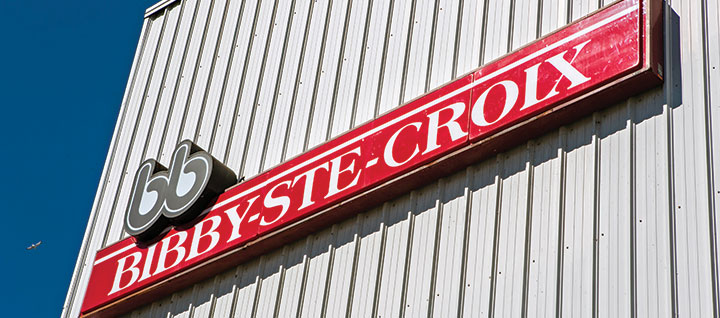 About Us
Bibby-Ste-Croix is a privately owned company that is corporately based in the United States. It operates two production foundries in Quebec, one in Ste-Croix de Lotinière and the other in St-Ours. It also has two points of sale outside Quebec, one is in Hamilton, Ontario, for municipal products and the other is in Medicine Hat, Alberta, for Mechanical Division.
Employment
Bibby-Ste-Croix's contribution to employment in Canada, especially Quebec, is very significant. Combining the two plants, two distribution centers and a sales team, Bibby-Ste-Croix employs over 500 people representing an annual wage bill of more than $20 million.
Production and products
Total production at Bibby-Ste-Croix is a considerable amount. At the end of fiscal year 2016, net production was 61,000 tons of iron. Of these tons, 94 percent is grey iron, which is made from 100 percent recycled material. The remaining six percent is ductile iron, which is made from 80 percent recycled material. This production is diversified in various product lines such as soil pipe and soil pipe fittings, which are mainly used in new commercial, industrial, institutional and residential construction, as well as municipal products such as valve boxes and street castings. Bibby-Ste-Croix also produces OEM specialty products like urban materials for municipalities, brake shoes, detectable warning grates and other products.
Market and Distribution
Products made by Bibby-Ste-Croix are destined for the North American market with about 80 percent to Canada and the remainder to the United States. To efficiently get these products to market, Bibby-Ste-Croix relies on a vast network of wholesale distribution.